BIO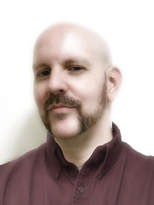 ​So, you're interested in learning more about the man behind the words, are you? Well then pull up a patch of earth, plant your ass down, shut up, and pay attention.
Okay, here's the thing — I never set out to be a writer. I started my career as a literary agent, back in the glorious Wild West days of the Internet when anybody could call him- or herself a literary agent and that made it so. God, I miss those days.
Anyhow, I had a few clients, and I tried my best to get their books sold to publishing houses. But frankly, a half-blind box turtle would have done a better job than I did. One thing I discovered, though, in perusing manuscripts was that I had an eye for catching typos. So I thought to myself, "How can I use this newly discovered ability to make a quick buck?"
As it turned out
—
and most proofreaders have discovered this in their careers
—
there is no quick buck to be made in the editorial world. But there were
slow
bucks. So after studying the proofreaders' marks in a book titled
Proof It!
(great name), I got my first job as a proofreader at a book production company in Danbury, Connecticut. Oh man, that place sucked. Even Dickens would have been like, "Dude, let me get you in with me. Seriously."
Assorted events brought me back to Massachusetts, where I started prostituting my editorial skills to the highest bidder, and that's how I wound up falling into the toxic river known as advertising. Yes, copywriters were creating copy to convince you to buy shit you didn't need, and I was making sure that copy was clean. If I wasn't directly responsible for the evil, I was at least complicit in it.
I bounced around for a long while, assignment to assignment, agency to agency, and then somewhere along the line, someone thought, "Well, if he can spell, surely he can write!" (This was the mentality I was dealing with
—
they narrowed down all of my skills as a copy editor to "he can spell.") So I wrote some stuff, and then I wrote some more stuff, and then suddenly I was a copywriter. It's just that easy, kids.
The first time I started writing fun stuff for my own amusement with any sort of regularity was when I created
Television Woodshed
. That's when I discovered how much time and effort were involved in writing a simple TV recap, and I thought, "Shit, I'll never be able to write a book." And I firmly believed that, right up until the moment that I started writing books.
These days I write them in the quiet comfort of my home on Boston's North Shore, which I share with my wife Teresa, and our cat, Duo. Is that everything? No, not by a long shot. But I need to save stuff for my blog, so I'll wrap up here.
​If you'd like to reach out and chat about things
—
I'm always up for a lively discussion of the Houston Texans,
Star Trek
,
The Honeymooners
, or anything having to do with Simon Pegg
—
​drop me a line at stephenlomer@gmail.com. Please allow 5-7 business days for a reply.
​We now return you to your regularly scheduled program.
---